Orienta Data Products is a leading distributor and broker of data and telecommunications equipment serving the U.S. as well as many countries across the globe. Established in 1986, the
company represents a wide array of product from multiple manufacturers, selling pimarily to resellers and system integrators.
The success of Orienta has been built on a solid foundation combining the experience and expertise of it's founder, Ingermar Sjunnemark, with a premier product line and the dedication and service of it's employees. The companies Mission Statement, as expressed by Ingemar reads: "I wanted to create a company replica that I would be eager to do business with myself, offering it's
customers sound technology, reponsiveness and exceptional
service and delivery."
The successful day to day implementation of this philosophy is much appreciated by Orienta's customers, some of whom include: IBM, Honeywell, Reuters, Cable and Wireless, Deloit and Touche, the United Nations and several national telephone
companies worldwide.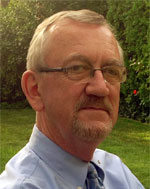 Ingemar I. Sjunnemark
President
Don't Be Shy. Get In Touch.
If you are interested in working together, send us an inquiry and we will get back to you as soon as we can!